This week, we bring you some book recommendations to help your little ones stay happy and calm during the experiences they might find new or confusing.
Hurry Up and Slow Down by Layn Marlow
Toddlers will love this simple story, with its cosy farmland setting and lovable characters. And while adults are reading a story that highlights the differences between the energetic and impetuous Hare and the rather more circumspect Tortoise, they will no doubt smile as they recognise the parallels with their own experiences of childcare!
A Bit Lost by Chris Haughton
A heart-warming story of Little Owl – who must be more careful when he is sleeping… Uh-oh! He has fallen from his nest, and with a bump he lands on the ground. Where is his mummy? With the earnest assistance of his new friend Squirrel, Little Owl sets off in search of her, and meets a sequence of other animals. Yet while one might have his mummy's big eyes, and another her pointy ears, they are simply not her. Chris Haughton's striking colour illustrations follow Little Owl on his quest. Which of his new friends will lead him back to his mummy?
Hug by Jez Alborough
As he sets about the forest in search of hugs, Bobo, the lonely chimp, is obliged by all of the animals as they give hugs and snuggle with him from time to time, yet it never seems to be enough and so no-one knows what to do to make him satisfied.
I Am Too Absolutely Small for School by Lauren Child
Lola is not so sure about school. After all, why would she need to count higher than ten when she never eats more than ten cookies at a time? Once again, it's up to ever-patient big brother Charlie to persuade Lola that school is worthwhile — and that her invisible friend, Soren Lorensen, will be welcome, too.
There's A House Inside My Mummy by Giles Andreae and Vanessa Cabban
There's a House Inside My Mummy is a story about a little boy's wait for his new baby. The author gives us a child's-eye view of this important period in a family's life, which will touch parent and child alike.
Can't You Sleep, Little Bear? By Martin Waddell and Barbara Firth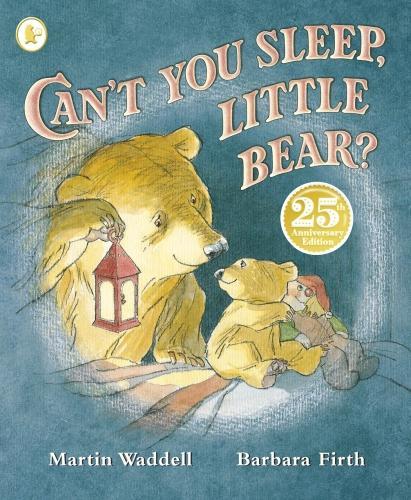 Little Bear can't sleep. There is dark all around him in the Bear Cave. Not even Big Bear's biggest lantern can light up the darkness of the night outside. But then Big Bear finds the perfect way to reassure Little Bear and help him fall fast asleep..
Get Well Soon by Charlotte Hudson
A heartwarming story about a family member who is ill and missing someone special. Wobbily Fang's mom doesn't look like Mummy any more. She looks small and lost and alone in her strange room in the hospital. 'When are you coming home?' asks Wobbily Fang. 'In a little while!' Mummy reassures him. But just how long is 'a little while' and how can Wobbily Fang make her eyes sparkle like they used to?
Harris Finds His Feet by Catherine Rayner
Harris is a small hare, who asks his grandfather one day why he has such big feet. His grandfather teaches him how to use them to hop, spring and climb mountains.They explore the world together, until his grandfather gently explains that the time has come for Harris to discover the world by himself. And that is what the newly big, strong hare does, using the skills his loving grandparent has taught him. Each spread in this skilfully illustrated picture book is a delight. Harris leaps joyfully across the pages, against vibrant washes of colour, as he learns to be independent for the first time.
Raising Happy, Calm Babies and Toddlers originally appeared in issue 171 of LINK magazine.

If you have something to share about life in Sheffield or some pearls of wisdom of interest to parents and carers of small children and would like to write an article for the magazine or or blog for the website, email link.onlinesocial@gmail.com or submit it here.